Blaž Pavlica | What's the form of sound?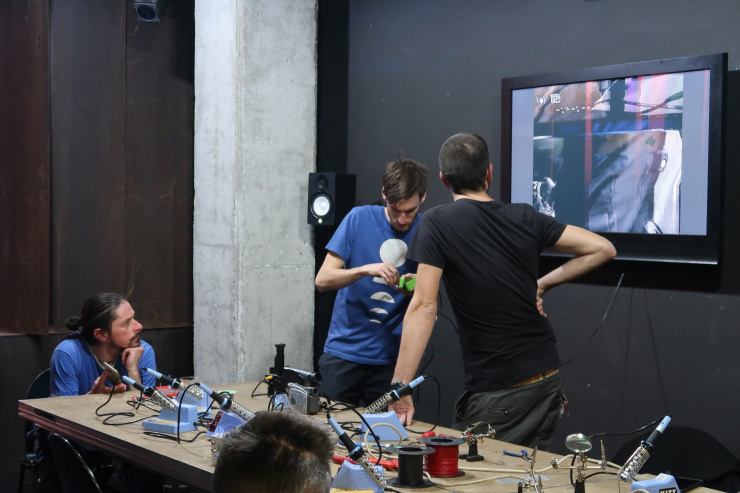 Kako bi lahko pogledali v zvok? Kakšne oblike bi odkrili, če bi zvok spremenili v podobo?
Če bi radi izvedeli, kako lahko vidimo zvok, vabljeni, da se nam pridružite na delavnici izdelovanja ''sinestetičnega'' kabla. Ta nam bo omogočil sinestetično iskušnjo oziroma soobčuje zvoka in slike. Z izdelanim kablom bomo povezali poljubne proizvajalce zvoka (računalnik, telefon, mp3 predvajalnik… ) in ekran. Kabel deluje tako, da signale, ki običajno nosijo informacijo barvnosti in svetlosti pikslov, zamenjamo z zvočnimi signali.
S hkratnim opazovanjem nastalih podob in poslušanjem zvoka bomo lahko opazovali lastnosti zvoka, ki bi jih samo s poslušanjem težko opazili. Ob tem bomo spoznali še delovanje diod, osnove spajkanja, kako delujeta VGA in avdio kabel in še kaj!
Delavnice za otroke in mlade, ki jih izvajamo v okviru projekta konS, predstavljajo serijo razburljivih in navdihujočih raziskovanj, učenja in ustvarjanj. Izvajamo jih, da bi bolje razumeli najsodobnejša dognanja v znanosti in novih tehnologijah, ki jih preko raziskovalne umetnosti premišljamo za posameznika in družbo.
With:
Blaž Pavlica
Blaž Pavlica (SI/NL) is an audio-visual artist, audio engineer, DJ, and programmer from Ljubljana. Currently, he lives in Utrecht and works as a web developer. He has performed with his audio-visual improvisational collective PRSA Ensemble, at the start with audio and generative melodies, but slowly transitioned to analog video feedback techniques and lastly to generative geometry and real-time 3D rendering. He is interested in live coding in spatial sound formats and the new synthesis and effects that are possible in them.