Robertina Šebjanič: Echinoidea Future - Adriatic Sensing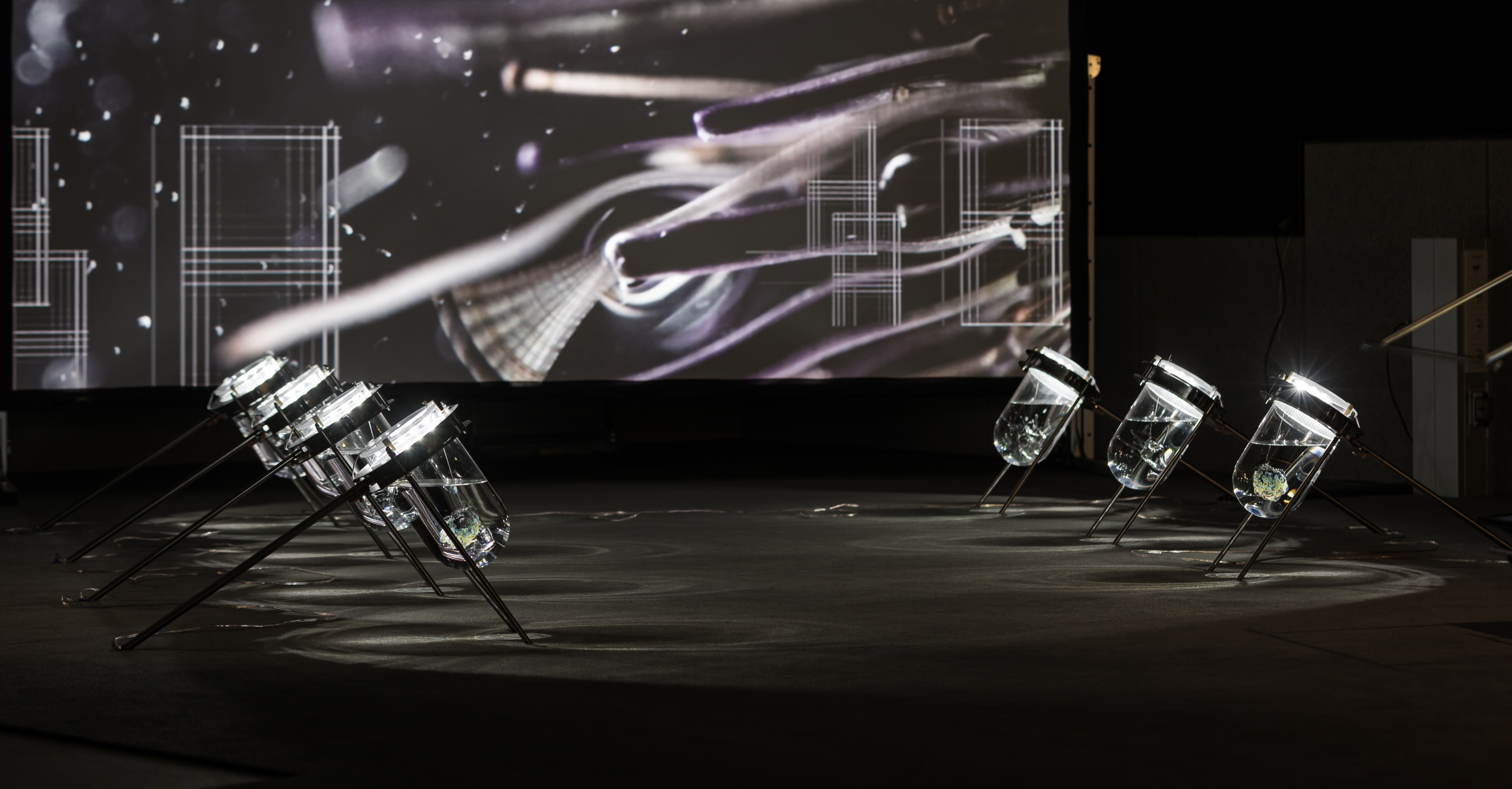 The exhibition Echinoidea Future - Adriatic Sensing explores the biogeological and morphological conditions in the coastal environment of sea urchins shaped by anthropogenic (human) liquid waste. The project explores the negative impacts of local and global human influence on the aquatic environment while demonstrating the resilience and adaptability of aquatic species. Roberta Šebjanič's artistic practice is based on the fostering of (sy)(e)empathy - the development of empathic strategies for the recognition of other (non-human) species.
The research was carried out in the framework of The Zero Pollution Adriatic residency, initiated by the UR Institute in the framework of the STARTS4Water project and took place in the coastal region of the Southern Adriatic.
The exhibition will be on view from 24–28 November 2023, every working day between 4pm and 8pm.
Exhibition opening and event: Thursday, 23 November, at 6pm
—
Concept, sound and video editing, installation: Robertina Šebjanič
U.I. video support: Tanja Minarik
Design of glass: Ivanka Pasalic
Design of metal structure: David Drolc
Technical support: Miha Godec
In collaboration with scientific advisors: Dr. Alenka Malej, Dr. Matjaž Ličer; Gjino Šutić, Filip Grgurević (UR Institute); Dr. Marijana Hure, Dr. Valter Kozul (Institute for Marine and Coastal Research, University of Dubrovnik)
Production: UR Institute, STARTS4Water
Production support: Zavod Sektor, PiNA
Special thanks to: osmo/za, Zavod projekt Atol, Ljudmila
The exhibition is supported by the Ministry of Culture of the Republic of Slovenia and the Municipality of Ljubljana.
With:
Robertina Šebjanič
Robertina Šebjanič is an artist/researcher whose work explores the biological, (geo)political, and cultural realities of aquatic environments and the impact of humanity on other organisms. In her analysis of the Anthropocene and its theoretical framework, the artist uses the terms "aquatocene" and "aquaforming" to refer to the human impact on aquatic environments. Her work received several awards and nominations at Prix Ars Electronica, Starts Prize, Falling Walls, Re:Humanism a.o.
More: https://robertina.net/
Manca Bajec
Dr. Manca Bajec is a researcher and artist whose interdisciplinary work is situated in the realm of socio-politics. She is a Lecturer in the Visual Cultures Department at Goldsmiths as well as the Managing Editor of the Journal of Visual Culture. https://www.gold.ac.uk/visual-cultures/staff/bajec-manca-/
Gjino Šutić
Gjino Šutić is a bio-technologist, an artist, innovator and educator. He is the founder and director of the Universal Research Institute and Gen0 Industries, and conducts research in several fields of science and postmodern new media art.
http://ur-institute.org/