Nestor Siré and Steffen Köhn: Fragile Connections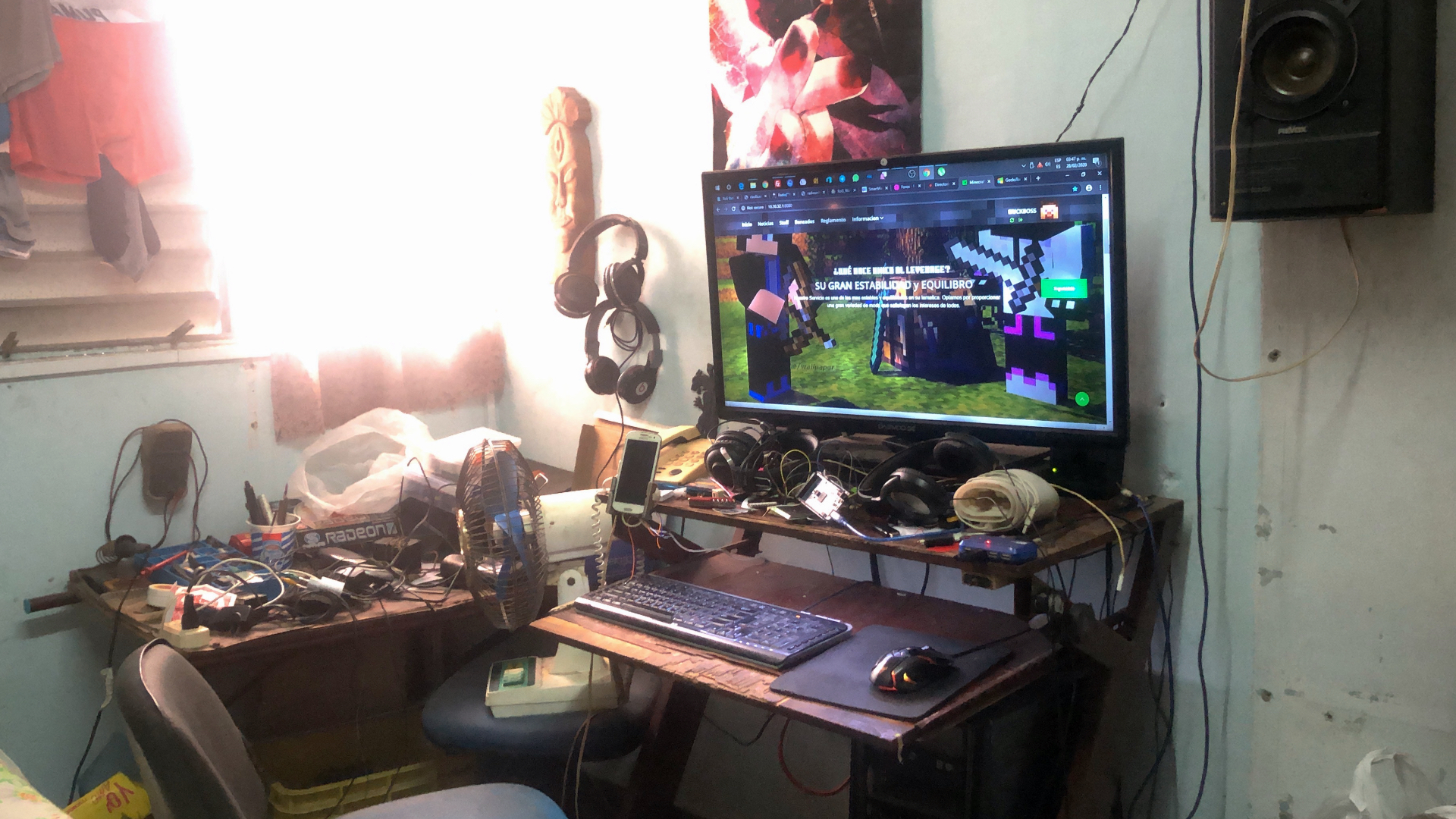 Opening and artist talk

:

Thursday, 20 April 2023, 18:00

 | Localizing the Internet: In the talk media artist Nestor Siré and anthropologist and filmmaker Steffen Köhn will give intimate insights into the unique materiality of Cuban alternative data distribution networks and the lives of the people who sustain them. | More about this.
The interactive installation documents the massive grassroots computer network SNET (Street Network) that Cuban technology enthusiasts have set up in response to the constraints of internet access on the island. This network allows users to play multiplayer video games, chat, send messages, debate in forums, share files, or host websites. SNET organically evolved from hundreds of neighbourhood local area networks (LANs) connecting with each other and is believed to be the largest community network in the world that is entirely isolated from the internet, linking tens of thousands of households in Havana. Its material base consists of miles of Ethernet cables running across streets or balconies, Wi-Fi antennas mounted on poles on rooftops, and servers and network switches operated by an army of volunteer node administrators. It relies on a network of thousands of participants who collaboratively create, operate, and maintain its hardware and software infrastructure. 
The installation replicates the technological set-up of a SNET node and thus constitutes a fully functioning Local Area Network. It allows audiences to connect with their smartphones to explore part of the network themselves and view or download research documents about SNET's history. It further consists of a three-channel video documenting a focus group interview with three SNET admins that was conducted over one of the network's TeamSpeak servers and recorded on their desktop screens. Further elements of the work are an infographic detailing SNET's power dynamics and hierarchies and a set of stickers with icons and symbols that SNET members use to express their digital identities.
This exhibition and artist talk are part of node #3 of the programme Tactics & Practice #14: Scale, which also includes the following events:
Exhibition Memoria | opening: 19 April 2023, 19.00 | Aksioma - Project Space, LJ
Workshop Digital Ethnography (for artists) | 19 April 2023, 14.00–17.00 | ALUO, Tobačna 5, LJ (in partnership with ALUO and konS)
Production: Ljudmila, Art and Science Laboratory and Aksioma – Institute for Contemporary Art, Ljubljana
With:
Nestor Siré
Nestor Siré (1988) is an artist living and working in Havana, Cuba, who is interested in informal methods of the distribution of information and goods, forms of social creativity in the face of scarcity, and the communities and human infrastructures that shape such practices. His projects are related to alternative networks, informal economies and power structures. Siré pays particular attention to the alternative strategies that have emerged in the digital culture of his native Cuba, which are a response to the country's disconnection from the global networks that control the Internet today.
His works have been exhibited at the Museo Nacional de Bellas Artes (Havana), Queens Museum (New York), Rhizome (New York), New Museum (New York), Ars Electronica (Linz), Hong-Gah Museum (Taipei), Musée d'art de Rouyn-Noranda (Canada), Transmediale (Berlin) and The Photographers' Gallery (London), among others. He has participated in events such as the Havana Biennial (Cuba), the Gwangju Biennial (South Korea), the Curitiba Biennial (Brazil), the Warsaw Biennial (Poland), the International Biennial of Asuncion (Paraguay), the Festival of New Latin American Cinema of Cuba and the International Short Film Festival of Oberhausen (Germany).
Steffen Köhn
Steffen Köhn (1980) is a filmmaker, anthropologist and video artist living and working in Berlin and Aarhus who uses ethnography to understand contemporary sociotechnical landscapes. For his video and installation works, he collaborates with local gig workers, software developers, science fiction writers and fellow artists to explore viable alternatives to current distributions of technological access and arrangements of power.
His works have been exhibited at the Academy of the Arts Berlin, Kunsthaus Graz, Vienna Art Week, Hong Gah Museum Taipei, The Photographers' Gallery and the Biennials of Lulea and Warsaw, while his films have been screened at, among others, the Berlinale, Rotterdam International Film Festival and the BFI Film Festival London.