Škulj / Berger & Božič / Vrenko | Invisible chambers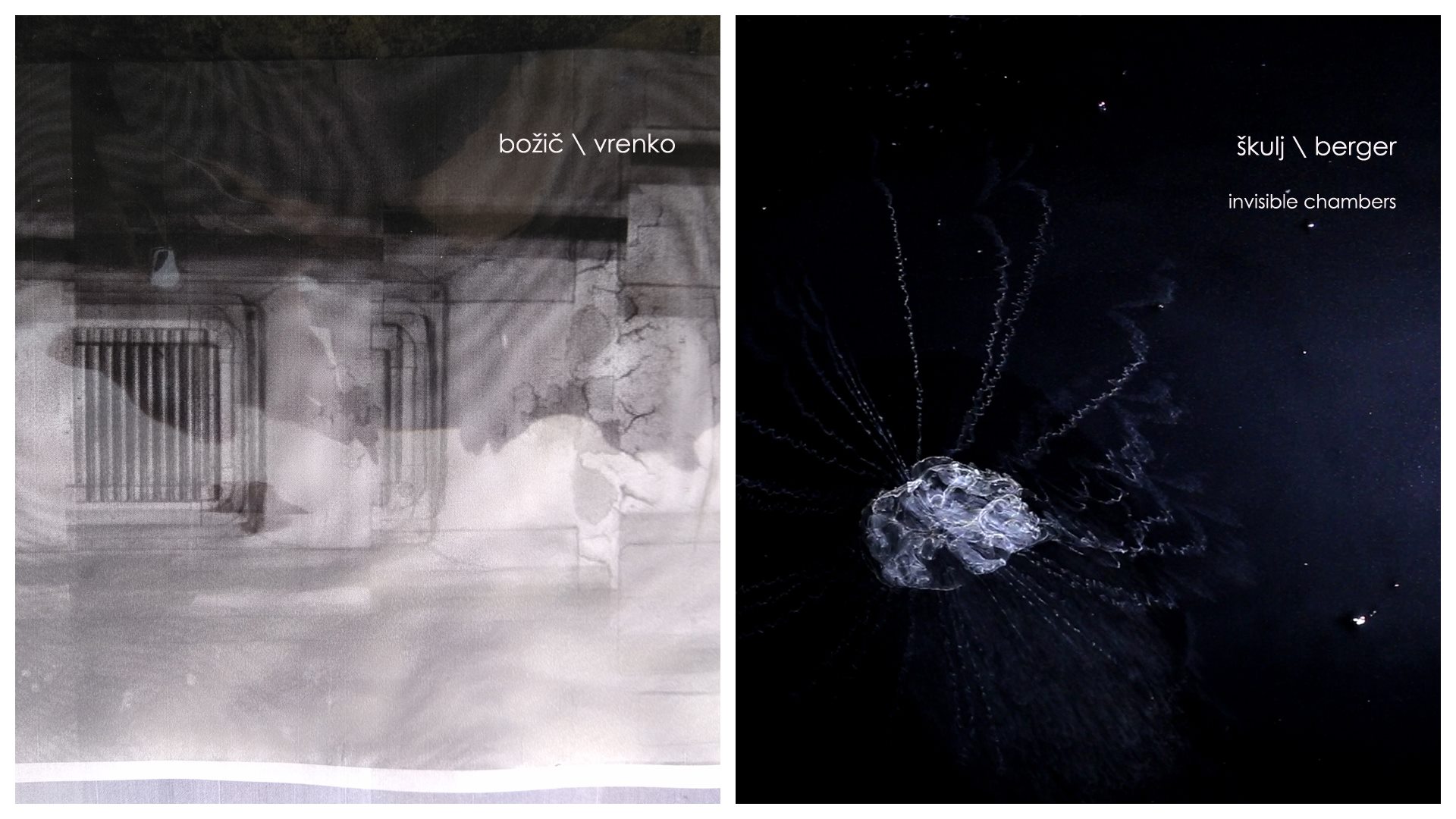 Fotografinja in videastka Špela Škulj in bobnar, tolkalec ter glasbeni raziskovalec Jaka Berger, bosta predstavila novo audiovizualno delo, ki sta ga poimenovala Invisible chambers. Invisible chambers preobrazi naravo organskega zvoka in podob preko digitalnega manipuliranja, iščoč analogije med naravnimi neomejenimi prostori ter umetno ustvarjenimi in omejenimi prostori. Zvočni vzorci specifičnih detajlov, ki smo jim priča skoraj vsak dan, a jih le redko zaznavamo, se bodo preoblikovali skozi vezje modularnega sintetizatorja. Vizualni detajl pa bo posegal v območje radiacije, enegrij ter silnic, ki se pretakajo skozi nas v čisto vsakem trenutku, a jih v veliki večini niti ne zaznavamo.
Iztočnica sodelovanja med interdisciplinarnim umetnikom Stašem Vrenkom in pesnikom, kitaristom in zvočnim eksperimentatorjem Blažem Božičem je preplet dveh avdiovizualnih arhivov, ki sestojita iz dokumentarnih zvočnih in video terenskih posnetkov ter abstraktnega zvočnega in video materiala. Za predvajanje tega materiala in poseganje vanj avtorja sočasno uporabljata različne tehnike, pri tem pa se poslužujeta open source algoritmičnih softverov, digitalnih efektnih procesorjev, VHS in DVD predvajalnikov, ritem mašin ter DIY analognih vezij. S posegi in digitalnimi sploščitvami tako premeščata surov avdiovizualni material med dokumentiranim prostorom in prostorom dejanskega predvajanja.
Špela Škulj - vizualije
Jaka Berger - modularni sintetizator
&
Staš Vrenko / Blaž Božič - DIY vezja, ritem mašina, kasetni predvajalniki, digitalni efektni procesorji, VHS in DVD predvajalniki
Produkcija FriFormA\V: KUD Mreža, http://kudmreza.org
V sodelovanju z: Osmo/za (Zavod Projekt Atol, Zavod Delak, Društvo Ljudmila)
Vstopnina: 5€
With:
Špela Škulj
Špela Škulj je vizualna umetnica, ki deluje v polju sodobne fotografije, videa in oblikovanja svetlobe. Njena zanimanja in umetniški projekti izhajajo iz humanistične izobrazbe in so najbližje osebnemu dokumentarizmu. V njih se večkrat pojavi tema ekologije oziroma nepovratnega vpliva človeka na naravo ter osamljenost in neosmišljenost človeškega bivanja v sodobnem svetu. Živi in dela v Ljubljani. / http://www.spelaskulj.net
Jaka Berger Brgs
Jaka Berger – Brgs is one of the most driven and well versed drummers and percussionists on Slovenia's music scene over the past ten years. His debut, a free jazz record dubbed Bass Trio, made in collaboration with Achille Succi and Samo Šalamon, was released in 2006. He was a member of the percussion band StrojMachine, performing also with Katice and the legendary and now revived Borghesia, while today he is a permanent member of Ludovik Material and Darla Smoking. Together with Marko Karlovčec he formed the Radical Improvisation Duo, while he explores the more noisier sonic experiences alongside Vitja Balžalorsky as part of the project The B. Bees. He composes solo electro-acoustic pieces through sound layering and field recording modulation.
Blaž Božič
Blaž Božič (1991, Ljubljana) je obiskoval je OŠ Dr. Vita Kraigherja in gimnazijo Ledina, nato pa zaključil študij starogrškega jezika in književnosti ter primerjalnega jezikoslovja. Dejaven je na predvsem na področju zvoka in glasbe ter na literarnem področju. Objavil pesniške zbirke Grč (Edicija Demo, MIK, Kud Kentaver, 2011), Potem smo si vranice odprli na nežno valujoči livadi (KUD France Prešeren Trnovo, 2013) in K območnim poročilom (Center za slovensko književnost, 2016). Deluje kot kitarist zasedbe nevemnevem, poleg tega pa tudi s solo breakcore-spoken word projektom projektom SsmKOSK, s katerim je izdal albume pičko 'n' troll (OFF TIR, 2014), Merak (samozaložba, 2015) in nazadnje Ptičji mozak (Zvočni prepihi, 2018).
Staš Vrenko
Staš Vrenko is an artist, musician and electronic instrument designer. He has an MA (cum laude) in sculpture from the Ljubljana Academy of Fine Arts and Design for which he received the Prešeren award for students. His practice involves various fields of art with a strong focus on sound exploration, electronic media and technologies, kineticism and performativity. In the past few years, he has presented various solo projects: Record (Kino Šiška), Loops in Transmission (osmo/za), Adoption Techniques (P74) and Connective (MoTA). He has also been featured on group exhibitions at the international festival Agora Creative (Grenoble), SCCA Ljubljana, Lighting Guerrilla Festival, MFRU_25, Kiblix, Vžigalica Gallery and Škuc Gallery, among many others.