Staš Vrenko | Loops in Transmission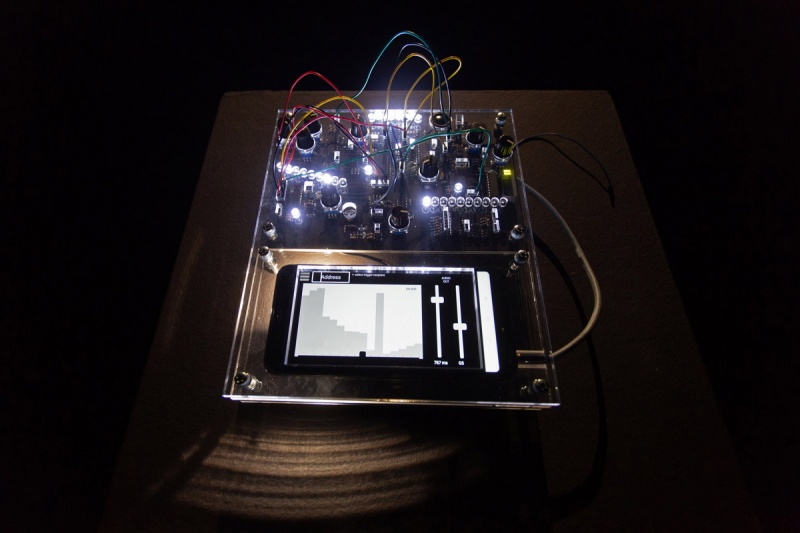 Staš Vrenko: Loops in Transmission
Interactive sound installation
27 & 28 December 2018 and 4, 5, 9 & 10 January 2019
With the project Loops in Transmission Staš Vrenko continues his exploration of hardware and software processes of recording, storing, processing and transmitting of sound that was already the basis of his past works Connective or Adoption Techniques.
The project deals with technical media that are capable of constructing specific modalities of measuring and recording time while also creating unique technology-based temporalities. Interactive sound installation Loops in Transmission is based as an interactive system of three identical sound devices or tools intended for processing of sound and logical signals. The foundation of each tool are smartphone applications developed for this specific purpose, extended with a selection of analogue-digital modular electronic circuits. Through a system of (electromagnetic and data) feedbacks in individual devices and through feedback on the level of communication between devices via LAN connection, Loops in transmission resonate and sonify the microtemporal processes of analogue and digital tech media that are otherwise inaccessible to human perception.
TIMELINE:
*Opening: 27 December 2018 at 7PM
*RADART 28 December 2018 at 8PM
*Talk by Robert Bobnič: In Search of Machine Time 4 January 2019 at 6PM
*Closing and talk with Voranc Kumar and Staš Vrenko 10 January 2019 at 6PM
Produced by Projekt Atol Institute and Ljudmila. The project is being realized in cooperation with the ŠUM journal and is supported by MOL – Department for Culture and Slovene Ministry of Culture. It is part of EASTN-DC Network, which is co-funded by the Creative Europe programme of the European Union.
With:
Staš Vrenko
Staš Vrenko is an artist, musician and electronic instrument designer. He has an MA (cum laude) in sculpture from the Ljubljana Academy of Fine Arts and Design for which he received the Prešeren award for students. His practice involves various fields of art with a strong focus on sound exploration, electronic media and technologies, kineticism and performativity. In the past few years, he has presented various solo projects: Record (Kino Šiška), Loops in Transmission (osmo/za), Adoption Techniques (P74) and Connective (MoTA). He has also been featured on group exhibitions at the international festival Agora Creative (Grenoble), SCCA Ljubljana, Lighting Guerrilla Festival, MFRU_25, Kiblix, Vžigalica Gallery and Škuc Gallery, among many others.
Robert Bobnič
Robert Bobnič is a researcher at the Centre for Cultural and Religious Studies at the Faculty of Social Sciences, University of Ljubljana, and a PhD student in Media Studies at the Faculty of Social Sciences, University of Ljubljana. His PhD dissertation focuses on the study of algorithms and automation in the field of cultural consumption. In the past, he has worked as an editor at V.B.Z. publishing house (2018–2020), editor of the cultural editorial office at Radio Študent (2013–2016), chief editor of Tribuna (2011–2012). He was also a member of the editorial board of ŠUM Journal for Contemporary Art Criticism and Theory (2018–2019), among others.