Rosišče#2 💦 Bine & kaluza8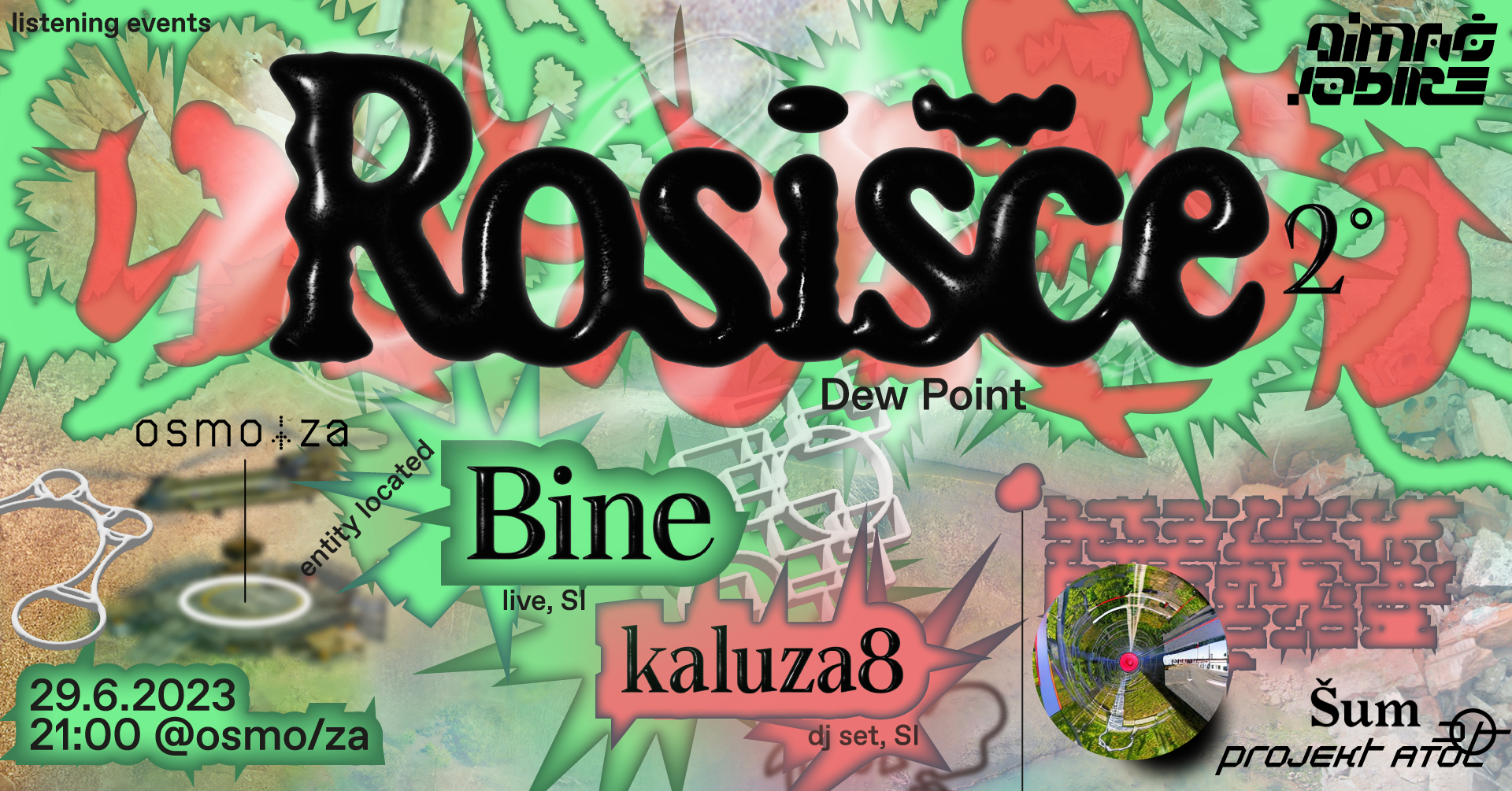 Temperature rises, individual molecules on the surface gather energy and - when reaching the right point - get propelled into the atmosphere. Their state: changed. The Nimaš Izbire collective and Projekt Atol, in collaboration with Šum journal, present the second edition of Rosišče, a series of intimate listening events dedicated to exploratory sounds of electronic music, which will over the course of the year condense into four sessions at osmo/za.
Bine is returning to Ljubljana after a long time. He plays (with) the electro-acoustic sounds which - in the radical spirit of contemporary electronica - madly disintegrate under his fingers, delicately reassemble, reverberate, whistle and, yes, even loudly crackle. Bine's live performances focus on a long tradition of musical experimentation, which offers fertile ground to be invaded by new spores of synthetic tones and field noise. Since his debut at Radio Študent's Club Marathon in 2017, Bine has appeared as a guest on producer Mosca's NTS show, performed at Sonica Festival and released an EP with British producer BFTT on the cult, also British, TT label (Tobago Tracks).

The evening will be opened by another local rarity: kaluza8, a cross-genre explorer of soundscapes and a musical figure of many names - Netware, Artificial Passenger and Fallwinter, among others - under which he performs in various collectives (Spejs, Aseben, Nimaš Izbire, Kibernet Kriminalität…), leaving his imprint on a surprisingly diverse scenes. For this session, he will present a DJ set of unheard interpretations of original works, combined with an inspiring handful of his favorite atmospheric tunes.

˗ˏˋ Bine
soundcloud.com/binebonebane
instagram.com/binebonebane/
˗ˏˋ kaluza8
soundcloud.com/kaluza8
instagram.com/kristjankaluza/
>>> FREE ENTRY <<<<
Voluntary contributions will be gratefully received at the door!

Music Policy: sound design, electronica, listening music, ambient pop, noise, ambiental
Thursday, 29 June 2023 @ osmoza // 21:00-00:00
Cover by Dorijan Šiško & Liara T'soni
Condensed by Nimaš Izbire: instagram.com/nimas_izbire
INFO/Contact: nimas.izbire@gmail.com
With:
Nimaš Izbire
Nimaš Izbire creative collective started as a DIY streetwear brand, but soon outgrew its boundaries and developed into a full-fledged community of designers, organizers, djs, vjs and other artists. Through music and design the collective strives to transform the (pop)cultural landscape in Slovenia that is still defined by the aesthetic concepts and mindset of established mainstream, and thus enable an environment that would be more accommodating and in line with the experiences, ideas and outlook of the young creative scene working and living in the still marginalized local setting.