Laboratorij Svetlobne gverile 2019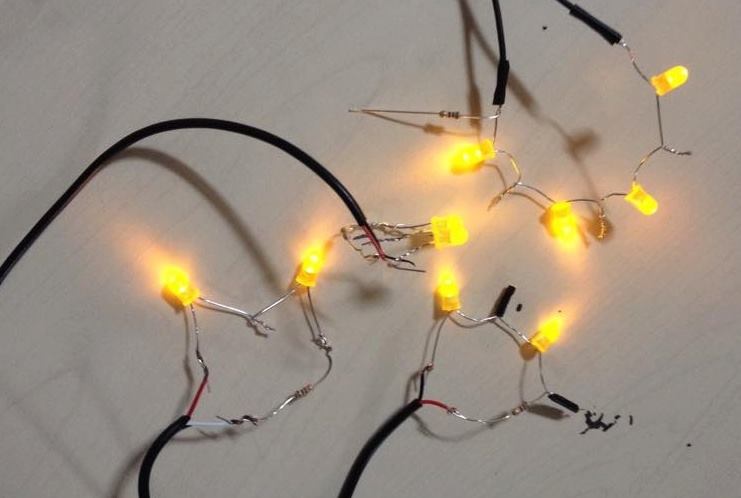 Laboratorij svetlobne gverile
osmo/za, Slovenska 54, Ljubljana (8. nadstropje)
23.─24. in 30.─31. marec 2019, 10.00─18.00
Laboratorij Svetlobne gverile se posveča tudi izobraževanju na področju svetlobne umetnosti in novih tehnologij. Letos bodo na delavnici umetniki lahko poglabljali svoje znanje na področju interaktivnosti oziroma pametnih naprav. Na delavnici se bodo udeleženci spoznali z možnostmi uporabe cenovno dostopnih mikrokontrolerjev – modulov, občutljivih na dotik in približevanje – ki se uporabljajo za interakcijo s svetlobo in zvokom. Z dotikanjem ali gibanjem lahko s pomočjo teh naprav upravljamo s predmeti, ki nam odgovarjajo s svetlobno-zvočnimi vzorci. Udeleženci delavnice bodo raziskovali možnosti ter aplikacijo novih interaktivnih uporabniških izkušenj.
Na prvem srečanju se bodo udeleženci podrobneje spoznali z mikrokontrolerji in možnostmi njihove praktične uporabe. Udeleženci se bodo razdelili v tri skupine; vsaka bo nato zasnovala in izvedla samostojen projekt, ki bo spomladi na ogled na festivalu Svetlobna gverila v Ljubljani.
Brezplačno delavnico vodita Tilen Sepič in Luka Frelih. Delavnica je namenjena udeležencem z ustreznimi predznanji ter izkušnjami na področju umetnosti. Število udeležencev je omejeno. Prijave s portfolijem na: core@mail.ljudmila.org; info: 031 401 556.
Več:
http://www.svetlobnagverila.net/team-members/laboratorij-svetlobne-gverile-5/?fbclid=IwAR1rlF3Q9B4schIPqtzT9Ussr2vyOl7baySkvGExtqQVDyiN_BcaEEjHTS0
With:
Ime

Tilen Sepič (1984) is a multidisciplinary artist and designer working in the fields of new media, light art, design of lighting objects, and audio-visual light installations. In his work he supports the open-source and DIY culture. With light-sound kinetic installations and light-based products he regularly participates in light festivals and exhibitions, both home and abroad: Vinterljus Festival of Lights (Linkoping, SE, 2019), IZIS (Portorož, 2019), Ventura Future (Italy, 2019), Responsive 2019 (Canada, 2019), Interference Tunis Light Art Project (Tunis, 2018), Design without borders (Budapest, 2018), Centre for Creativity (Maribor, 2018), Collumina Light Art Project and EVI Lichtungen Light Festival (Köln and Hildesheim, Germany, 2018), Visualia (Pulj, HR, 2017), Bella Skyway (Poland, 2015, 2016), Lumina Festival (Portugal, 2013, 2015, 2016), Lighting Guerrilla (2013, 2014, 2019).