Zlatko Baracskai / Urška Preis / Boris Janje / Jaka Berger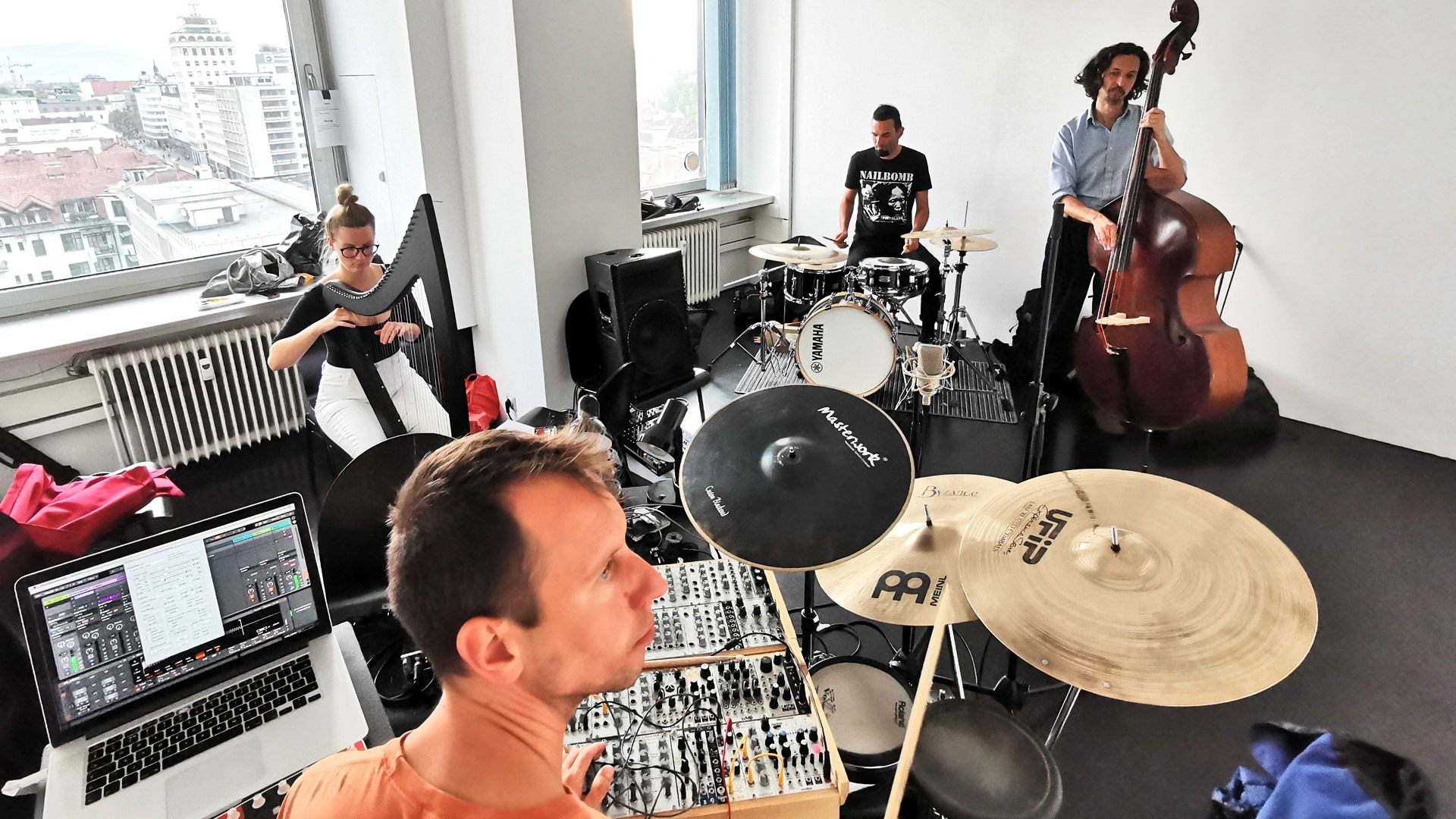 Z veseljem napovedujemo koncert formacije, ki se je prejšnji teden sestala na pobudo Zlatka Baracskaija, predavatelja, glasbenika in izumitelja na področju glasbene tehnologije. Zlatko se je na svoji tritedenski rezidenci v Osmozi posvetil izvedbi live coding delavnice, skladanju, snemanju in nastopanju. Na minulem dogodku Kamizdat Rentgen x Ljudmila je izvedel solo koncert na svojem glavnem instrumentu – modularnem sintetizatorju, ki ga najpogosteje dopolnjuje z elektronskimi bobni in činelami.
Ker ministrstvo že celo leto skrbno skriva podatek o finančni (ne)podpori je FriForma brez koncertov preskočila dober del pomladi in celo poletje ter se sedaj, s pomočjo Društva Ljudmila, ponovno pojavlja, tokrat v Osmo/zi, kjer Zlatko Baracskai ustvarja s harfistko Urško Preis, kontrabasistom Borisom Janjetom in bobnarjem Jako Bergerjem. Redka priložnost, ko lahko mednarodni glasbenik nekaj dni ustvarja z lokalnimi glasbenicami in glasbeniki, bo v naša ušesa poslala 6 kombinacij duetov (15-20 min.), skupaj 100 minut glasbe, ki bo odigrana v dveh polčasih.
Drago ljudstvo, zgrnite se množično, dokler se še lahko!
14. 10. 2020, 20.00-22.00
Osmo/za, Ljubljana
Spored:
. Zlatko Baracskai - kratka refleksija na 3-tedensko ustvarjanje v Ljubljani (15. min)
· Zlatko Baracskai / Boris Janje
· Urška Preis / Jaka Berger
· Jaka Berger / Zlatko Baracskai
· Boris Janje / Jaka Berger
· Urška Preis / Boris Janje
· Zlatko Baracskai / Urška Preis
- živa vizualizacija: Stella Ivšek (5237)
- spletni prenos, kamera: Črt Trkman, Adam Mulalić
Produkcija: Nataša Serec & László Juhász, KUD Mreža
Koprodukcija: Društvo Ljudmila, laboratorij za znanost in umetnost in Zavod Projekt Atol
Finančna podpora: Ministrstvo za kulturo RS
Zahvala: Perzijske preproge Farzad, Gornji trg 12, 1000 Ljubljana
With:
Zlatko Baracskai
Zlatko Baracskai was born in Sarajevo from a very mixed background. His early interest in computers, science, drumming and music led him to become an expert in music technology. He teaches a wide range of subjects at universities (University of the West of England, Bristol) to include signal processing, acoustics, psychoacoustics, generative music, audio programming, studio applications and user software. As an artist he is rather independent, challenging and humorous. He authored over 20 albums, many installations, and created a variety of interactive music systems and instruments. His published writings and inventions include non-linear distortion, unconventional audio processing, neural networks and a relaxation study.
As a teen he performed playing drums and mixing records growing to become a turntable scratch artist joining progressive jazz bands. While he studied electronic music (Institute of Sonology at the Royal Conservatory in the Hague) he developed performances with laptops, custom made controllers and augmented acoustic instruments. Lately he is most often performing with modular synthesisers focusing on uncontrollable chaotic circuits. Most recently, electronic drums found a place in blending his passion for odd meters with unconventional electronic sounds.
More:
http://www.zlatko.hu/
Urška Preis
Urška Preis rouge-ah je mlada glasbenica, izvajalka na harfi in vizualna umetnica. Študirala je na Ljubljanskem konzervatoriju za glasbo in balet, Akademiji za likovno umetnost in oblikovanje, se dopoldnjevala v Listaháskóli Íslands, Reykjavík in Hochschule für Grafik und Buchkunst, Leipzig. He polovica projekta II/III (dva skozi tri) skupaj z elektronskim producentom Tinetom Vrabičem – Nitz. Kot solo glasbenica se je kalila na Leipziški avantgodbeni sceni in v zadnjih letih nastopala v Berlinu, Bambergu, Copenhagnu, Ljubljani in Reykjavíku. Spomladi 2018 izide njen solo prvenec pri spletni založbi Kamizdat.
Jaka Berger Brgs
Jaka Berger – Brgs is one of the most driven and well versed drummers and percussionists on Slovenia's music scene over the past ten years. His debut, a free jazz record dubbed Bass Trio, made in collaboration with Achille Succi and Samo Šalamon, was released in 2006. He was a member of the percussion band StrojMachine, performing also with Katice and the legendary and now revived Borghesia, while today he is a permanent member of Ludovik Material and Darla Smoking. Together with Marko Karlovčec he formed the Radical Improvisation Duo, while he explores the more noisier sonic experiences alongside Vitja Balžalorsky as part of the project The B. Bees. He composes solo electro-acoustic pieces through sound layering and field recording modulation.
Stella Ivšek
Stella Ivšek (1987) je oblikovalka ter multimedijska umetnica z Zasavskimi koreninami. Po končani likovni gimnaziji na Srednji šoli za oblikovanje in fotografijo je študirala na Akademiji za likovno umetnost in oblikovanje Ljubljana - smer vizualne komunikacije. Njeno področje dela je široko - zajema ilustracijo, oblikovanje, animacijo in video. Pod aliasom 5237 nastopa kot VJ, zanima jo živa generativna vizualizacija zvoka, mapiranje video projekcij ter video montaža. -> VJ 5237