Modul@rnice x MENT: System Sound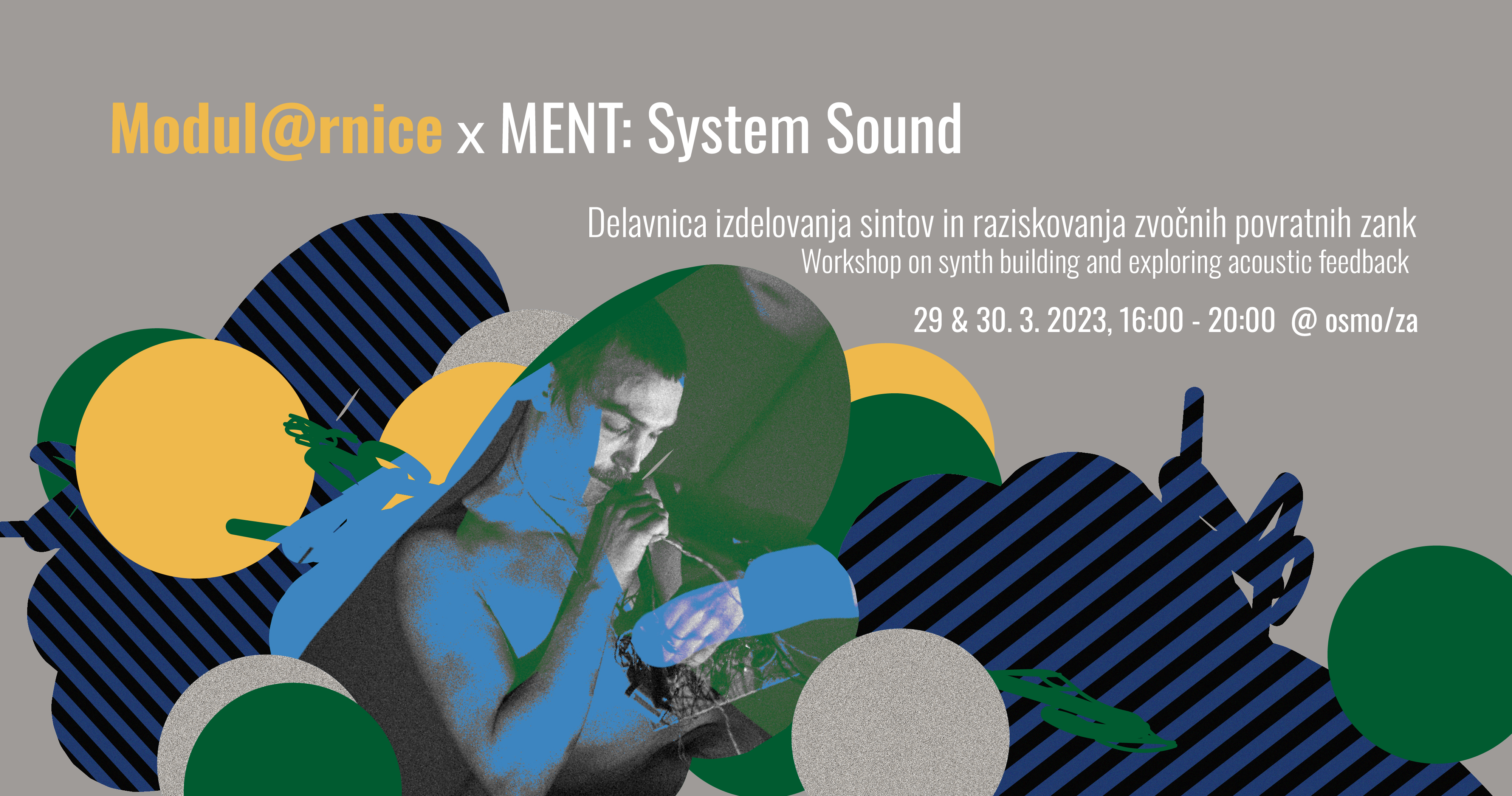 ♫ ♫ Workshop on synth building and exploring acoustic feedback ♫ ♫

29 & 30 March 2023 | 16:00 – 20:00
We have already dived deep into modular synthesis with online meetings this year. But we think a hands-on soldering workshop needs to happen soon. If you want to stretch your fingers a bit, twist some wires and solder some resistors, join us for a two-day workshop with sound artist Max Wainwright where we will build a DIY feedback mixer.

➤System Sound is a sound device and an "event" for exploring acoustic feedback and "input mixing" where loudspeakers, microphones, amplifiers and external sound sources combine to create a complex system of oscillations.

➤➤On the first day, we will focus on assembling and soldering a device that can be used for exploring acoustic feedback and input mixing. It can be used as a standalone or you can connect it with other sound devices such as oscillators, piezo mics, mixers, modular synths, pedals and even a guitar.

➤➤On the second day, we will be working on connectability, making sounds, interacting with other sound devices, and working on ideas we came up with during the first day. Participants will learn to improvise, work together, and create amazing noisy soundscapes.

REGISTRATION
You do not need any prior knowledge or skills to attend the workshop, just a desire to learn and mess around with electronics – newbies are welcome! The workshop will be held in English. The number of participants is limited. The deadline for applications is 20 March.

👉 Apply at rea@projekt-atol.si.
The workshop fee is 30 € and it covers the cost of materials. The final product remains in your possession. All participants will receive an email regarding the payment process.

WHAT TO BRING

All the electronic components necessary will be provided. However, participants are requested to bring:
- power supply (the System Sound device is based on the Boss standard power supply that many musicians already have, so if you happen to have it or you have a similar one (it should be 9-12V DC with at least 1A current ! ), bring it along. If you are not sure which power supply should work, please let us know when you are applying and we will help you find it)
- bare speaker (salvaged audio loudspeaker from a boombox, hi-fi system, clock radio)
- box (it can be a cardboard box, a plastic tube, a pot or a bucket. Just some acoustic resonator of a size and shape big enough to hold the speaker and the circuit)
And do not forget to bring some other sound devices to make epic sounds; guitar, contact mic, synth, effect pedal, eurorack system (small), drum machine, phone (with line out), iPod, CD/cassette player and CDs/cassettes, mixing desk, etc.
With:
Max Wainwright
Max Wainwright is a noise artist, composer, instrument maker and performer. He makes experimental electronic and acoustic music, involving free improvisation, adapting to complex systems, and making & using terrible instruments. He does solo and collaborative performances, installations, sculpture, radio pieces, chamber composition, video work and more. As an artist, he is concerned with states of flux and how useless or broken objects can be sounded. He likes to engage audiences and things in conversation, creating instruments, trading, donating or receiving things, and performing on these. Using these, he explores human-technology interaction, deconstructing live performance, futility and effort, and performing through inactivity.