ClockWork Voltage - Happy Little Voltages | izid kompilacije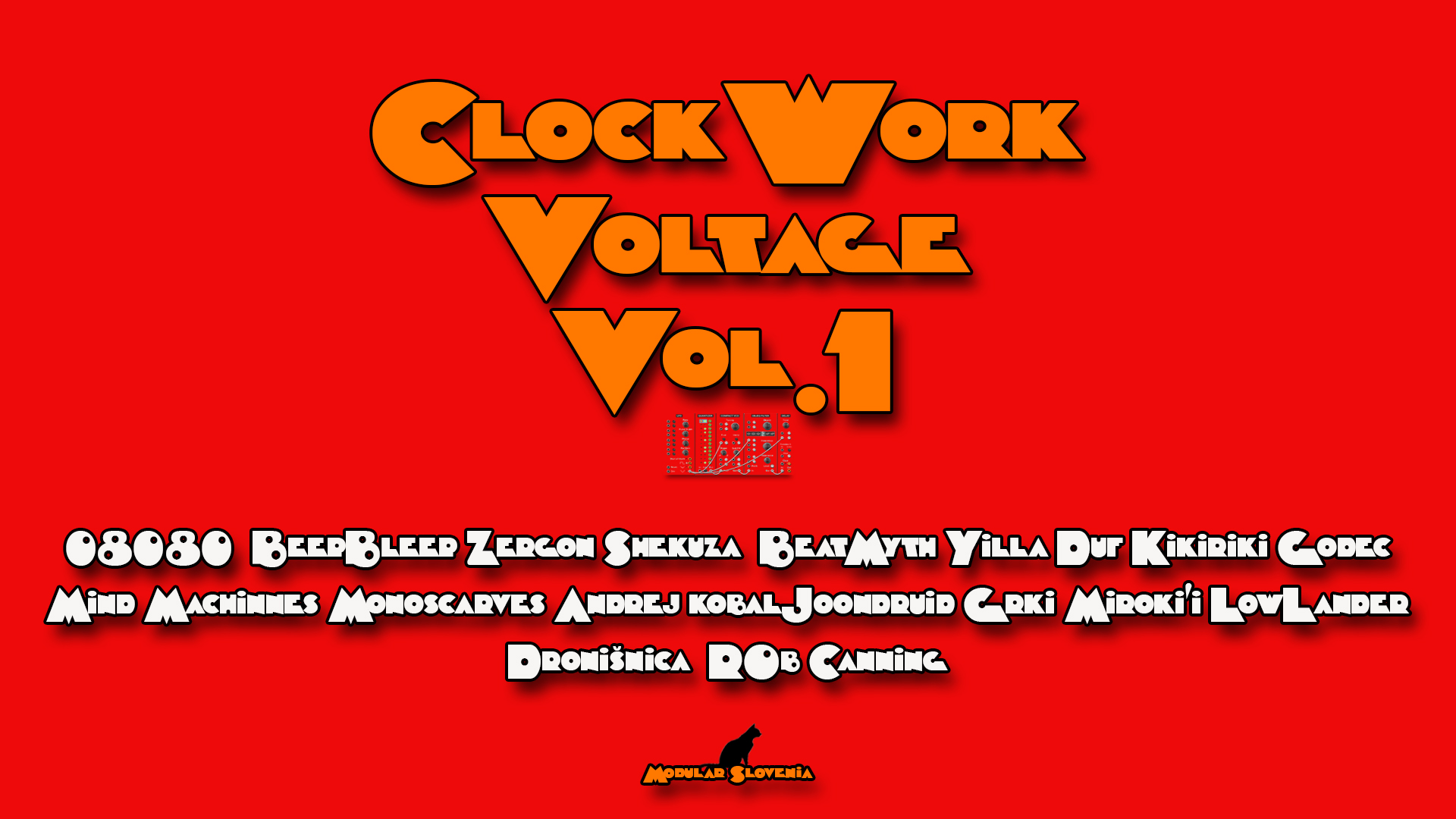 This event will be dedicated to the promotion of local production on the occasion of the release of the first ClockWork Voltage compilation in which 16 local producers are participating. Since it is the first edition of its kind, which offers us an insight into current production with modular synthesizers in Slovenia, the list of performers will also be abundant, so that we will witness a marathon of live sets that will demonstrate the wide spectrum of expression that the domestic modular scene possesses. Everyone present on the compilation will appear live, and we will also be joined by some new names who will perform for the first time.
Entry until 22.00.
Lineup:
BeatMyth
Godec
Zergon
Lowlander
Miroki'i
Kikiriki
Shekuza
DUF
Mono Scarves
beepblip
08080
Grki
Joondroid
Yila
Andrej Kobal
Mind Machines
Dronišnica
Rob Canning
ClockWork Voltage meetings represent the momentum of the Slovenian community, which is united by enthusiasm for modular synthesizers. While we are witnessing an ever-increasing expansion and interest in creating with modular synthesizers abroad, a good number of creators active in various fields of art have appeared on domestic soil in recent years. In addition to the established names, the world of modular synthesizers also includes many unknowns who diligently screw around in the shelters of their home studios and practice oscillating in everyday life.
Through the ClockWork Voltage platform, the community of the home modular scene manifests itself and will continue to offer various meetings and events aimed at experimenting and presenting home production with these fascinating machines.
With:
Jaka Berger Brgs
Jaka Berger – Brgs is one of the most driven and well versed drummers and percussionists on Slovenia's music scene over the past ten years. His debut, a free jazz record dubbed Bass Trio, made in collaboration with Achille Succi and Samo Šalamon, was released in 2006. He was a member of the percussion band StrojMachine, performing also with Katice and the legendary and now revived Borghesia, while today he is a permanent member of Ludovik Material and Darla Smoking. Together with Marko Karlovčec he formed the Radical Improvisation Duo, while he explores the more noisier sonic experiences alongside Vitja Balžalorsky as part of the project The B. Bees. He composes solo electro-acoustic pieces through sound layering and field recording modulation.