COFFEE TABLE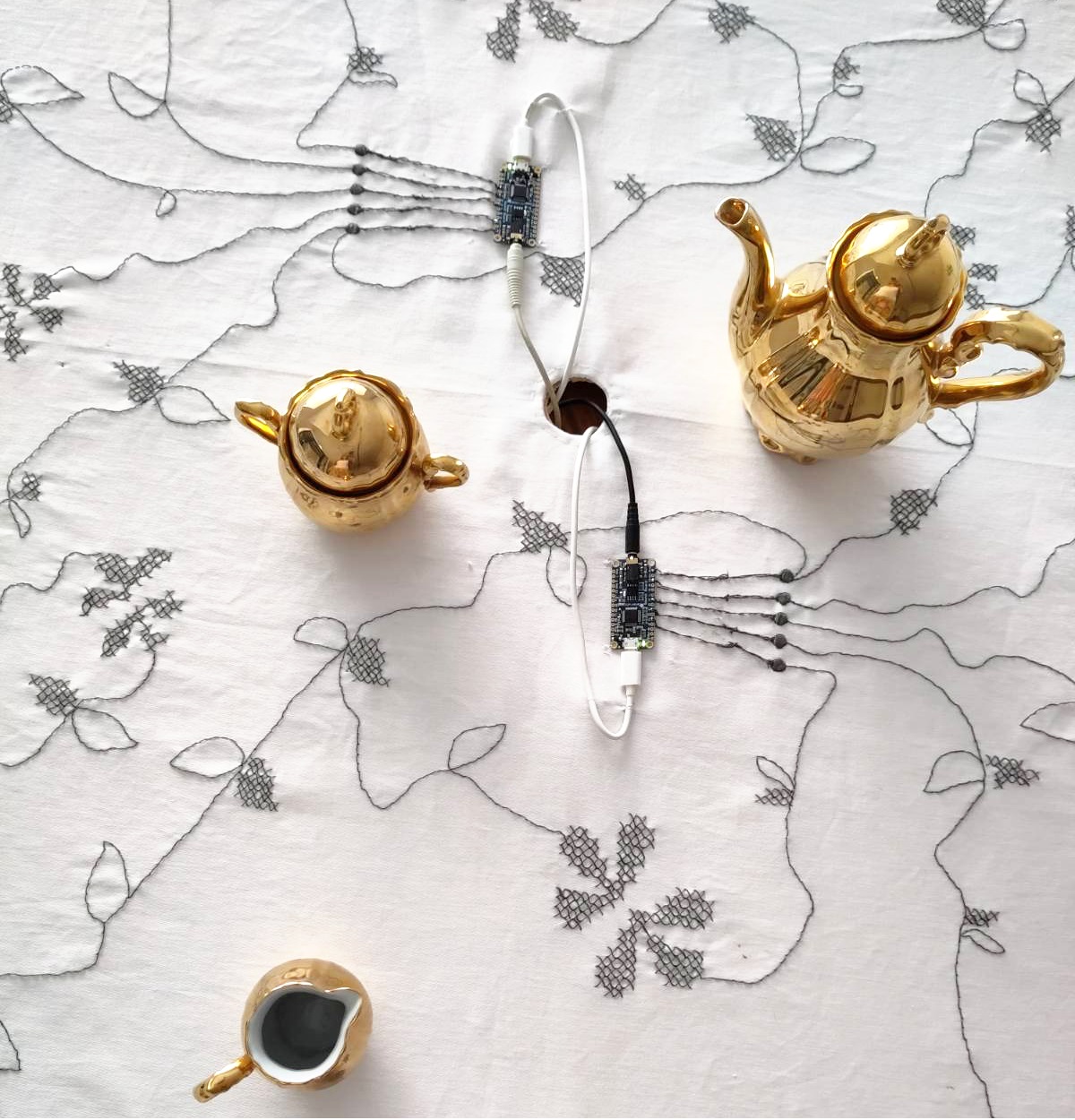 Workshop on ethical hardware, wearable tech and feminist hacking.

Building on the legacy of feminist Salon Culture of the 1920s we invite you to rethink the women's coffee table gathering as a circulation of energies and potentialities that we expose through the electric circuits. We try to build these electric circuits with ecologically sentient methods and materials, reflecting on the colonial histories and presents of mining, import, consumption, and appreciation of art and hardware.

Please bring old cups with gold decoration if you find any, we will implement them into our DIY sensors.

The collective Mz* Baltazar's Lab weaves a cooperative web of feminist Hackers.
They are committed to problematizing Technopolitical interdependencies and to the process of collective search for solutions. The collective is not only a method, but also the material of the artistic debate.
Forms of collective knowledge transfer that were believed to be outdated, such as a secret, a coffee party or a manual, are playfully reactivated.
To remember these outdated forms but also become aware of their colonial context can inspire generative resistance.
With:
Stefanie Wuschitz
Stefanie Wuschitz, born in Vienna 1981, works at the intersection of research, art and technology, with a particular focus on Critical Media Practices (feminist hacking, open source technology, peer production). She graduated with an MFA in Transmedia Arts in 2006 (University of Applied Arts Vienna). 2008 she completed her Masters at TISCH School of the Arts at New York University and became Digital Art Fellow at Umea University in Sweden. 2009 she founded the feminist hackerspace and art collective Mz* Baltazar's Laboratory in Vienna. In 2014 she finished her PhD on 'Feminist Hackerspaces' at the Vienna University of Technology. She held research and Post-Doc positions at the University of Applied Arts Vienna, the Vienna University of Technology, Michigan University, Weizenbaum Institut, Universitaet der Kuenste Berlin, TU Berlin (Open Science, Berliner Hochschulprogramm DiGiTal) and is currently project leader of an FWF research project on 'Feminist Hacking. Building Circuits as an Artistic Practice' affiliated to Academy of Fine Arts Vienna. Her works have been exhibited in international venues such as Panke Galerie (Berlin), ART|JOG 8 (Yogyakarta), Bouillants (Vern-sur-Seiche), Austrian Cultural Forum (New York City), Fringe Festival (Taipei), and others.
Patrícia J. Reis
Patrícia J. Reis, born in Lisbon in 1981, is an installation artist and lives in Vienna (AT). She studied painting (ESAD, Superior School of Art and Design, Caldas da Rainha Portugal, 2004) and media art (Lusófona University, Lisbon, Portugal, 2011) and did her PhD at the University of Èvora in Portugal in 2016. Reis is a former researcher from the T E N N E N G A U E R K U N S T K R E I S – k u n s t r a u m p r o a r t e Schöndorferplatz 5, 5400 Hallein www.kunstraumproarte.com National Science Technology Foundation in Portugal and taught photography, video and digital art at the Polytechnic Institute of Beja in Portugal from 2006 to 2012. She is currently employed as an artist and lecturer in the Department of Digital Art at the University of Applied Arts in Vienna and also teaches at the Art University in Linz. Her artistic practice also focuses on feminist themes, questioning ascribed roles of women in relation to representation (in the digital image) as well as the lack of female participation and visibility behind productions of new technologies and art. Since 2012 she has been a board member of the collective Mz* Baltazar's Lab.