Saša Spačal | Bralnik Svetlobe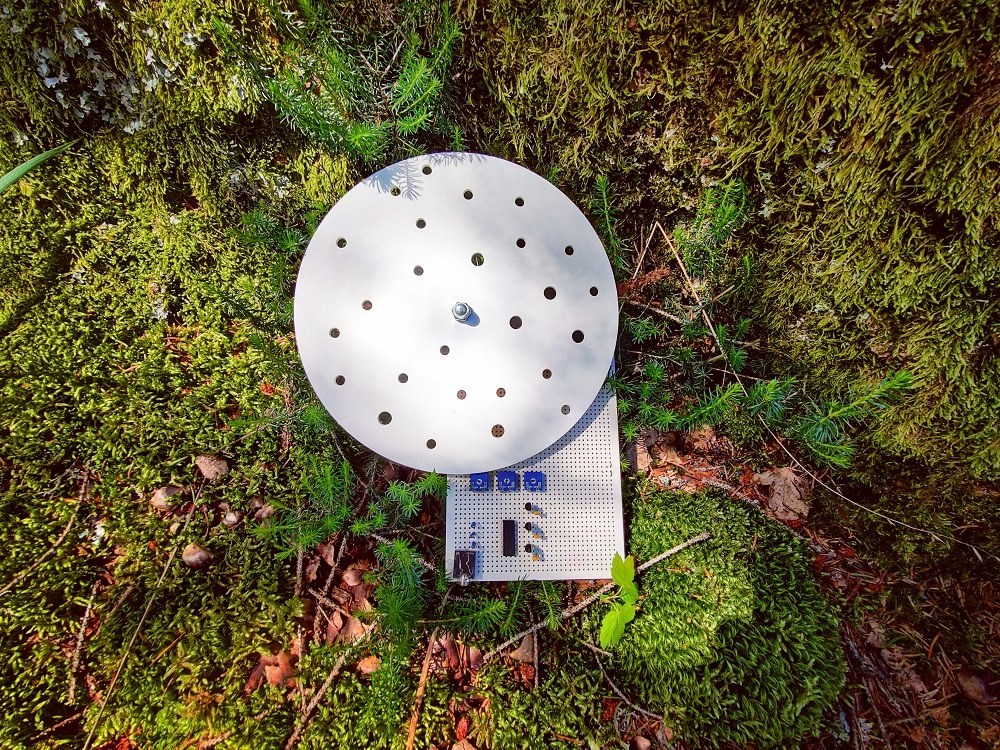 ➤ Saša Spačal: Bralnik svetlobe
Delavnica izdelovanja fizičnega vmesnika za sprožanje zvoka s svetlobo
➤ Udeleženci delavnice bodo izdelali preprost fizični vmesnik za sprožanje zvoka s svetlobo. Bralnik svetlobe sestavljata mehanski del, ki omogoča nadzor svetlobe s preluknjanimi diski, in elektronski del sestavljen iz dveh integriranih vezij, ki generirata zvok glede na svetlobno jakost. Za delavnico je potrebno osnovno znanje spajkanja in iskrica v očeh! Tehnološki princip, ki poganja Bralnik svetlobe, je bil uporabljen pri umetniškem delu Mycophone_unison, ki ga je mogoče videti tudi v sledečem videu: https://vimeo.com/205934235.
➤ PRIJAVA: Udeležba na delavnice je brezplačna, zelo zaželjeno je znanje spajkanja. Končni izdelek ostane v vaši lasti. Število mest omejeno, prijave sprejemamo na delavnice@projekt-atol.si do zapolnitve mest. Pri izvedbi delavnic sledimo priporočilom NIJZ.
Delavnice, ki jih izvajamo v okviru projekta konS, predstavljajo serijo razburljivih in navdihujočih raziskovanj, učenja in ustvarjanj. Izvajamo jih, da bi bolje razumeli najsodobnejša dognanja v znanosti in novih tehnologijah, ki jih preko raziskovalne umetnosti premišljamo za posameznika in družbo. Projekt konS vzpostavlja mrežo vozlišč in laboratorijev po vsej Sloveniji, ki se medsebojno dopolnjujejo v ekosistem dejavnosti za kritičen razvoj prihodnosti.
Produkcija: Zavod Projekt Atol. Delavnica je bila razvita v okviru projekta konS. konS:: Platforma za sodobno raziskovalno umetnost je bil izbran na javnem razpisu za izbor operacij »Mreža centrov raziskovalnih umetnosti in kulture«. Naložbo sofinancirata Republika Slovenija in Evropska unija iz Evropskega sklada za regionalni razvoj.
https://kons-platforma.org/
With:
Saša Spačal
Saša Spačal is an intermedia artist and a graphic designer with background in humanities, who has expanded her knowledge of computer graphics, web and video production at various workshops. She is currently working in the fields of graphic design, real-time interactive visualization and intermedia art, trying to connect various technological and biological organisms. She has taken part in exhibitions and projects in Moderna galerija, Galerija Škuc and Galerija Alkatraz. As a member of Temp group she had participated in public interventions and installations, in the development of strategies for alternative use of abandoned spaces, and in exhibitions Odprti Rog, Pogovarjanja/Conversations/Conversas, Mapiranje/arhiviranje/analiziranje izginulih prostorov umetnosti. As a researcher, she had taken part in the international research project Performing the City. Art Actionism in Public Space in 1960s/1970s that had made its rounds in Munich, Naples, Sao Paulo, and Paris. Her interactive installations were presented at various international exhibitions and festivals such as Haip festival – Ljubljana, Enter 5: Datapolis – Prague, AmberFest'11: Next Ecology – Istanbul, De:sonanz 2012 – Skopje, Device_art 4.012. – Zagreb, Device_art 4.013 – Prague and Enter 6: Biopolis – Prague. Currently she is developing several new projects that focus on interfaces between living and technological organisms in collaboration with Kapelica Gallery, Multimedia Center Kibla and Ljudmila – Ljubljana digital media lab. In the field of interactive visualization and sound design she is developing strategies for usage of physical interfaces for generating sound and visuals as a member of Theremidi Orchestra. Together with Ida Hiršenfelder she is developing ČIPke platform, an initiative for researching the conditions of women who are active in the context of science, technology and media art. ČIPKe platform will open a space for conversation about women working in these fields and try to form a women friendly hackerspace with practical educational programs.